Class C RV: Thor 4 Winds Mercedes Benz Sprinter in a park in Louisiana
When it comes to planning the perfect family vacation and choosing the
best RV for a family of four
, just like anything else the options can be endless. With different types of RVs to choose from, we'll tell you why the Class C makes for the best RV vacations and is the best RV for a large family.
What features and what equipment should RVs have for a family of 4?
RVs have been a great way for families to enjoy road trips, vacations and outdoor camping adventures. They've also been the perfect option for people looking to use an RV for full time family living. Traveling or living in an RV with kids often requires preparation and researching which RV best fits the family's needs. A family of four with either an infant, toddlers or school-aged children would need a fully loaded RV that simultaneously meets necessity while providing luxury and comfort.
The ideal RVs for this traveling family offer spacious living quarters with semi-private bedrooms, overhead bunks, bathrooms and generous storage space. A family of four would need a kitchenette equipped with a microwave to conveniently heat food, a stove to cook light meals, and lastly a compact fridge to preserve any drinks or groceries purchased on the trip. The family would also need an RV with an upgraded heat and air conditioning system that's user friendly as they may want to control the RVs temperature in the hot summer months or cold winter season. The great thing is most RVs nowadays come with all if not most of these amenities as well as other essential equipment to accommodate a family of four.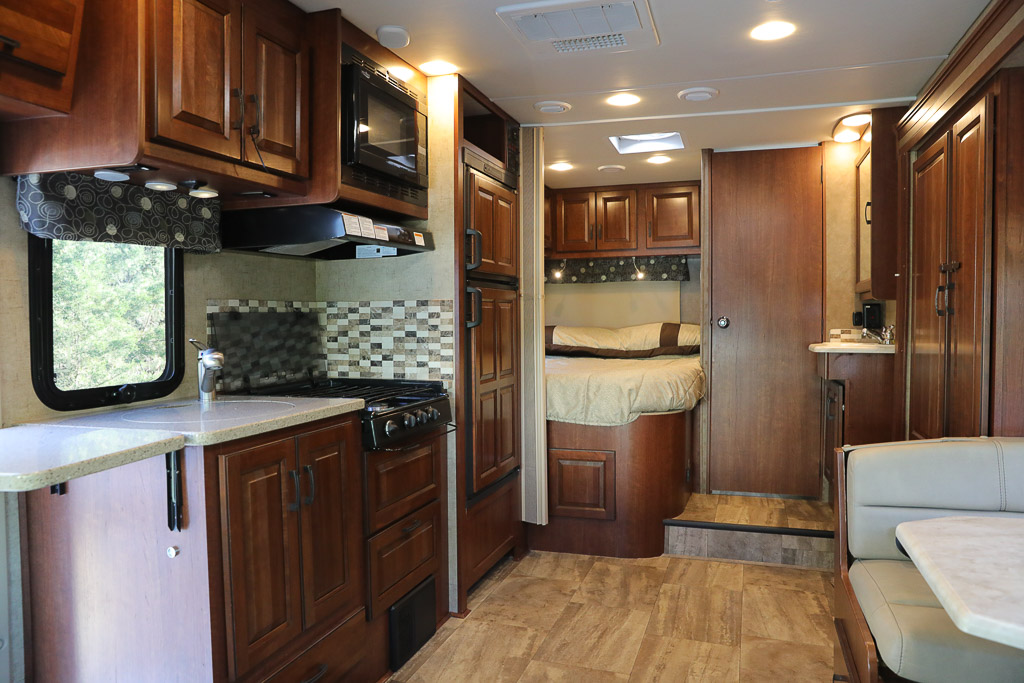 Spacious Interior of MBS Forester 2401S Class C RV


What types of RVs are suitable for a family with 2 children?
Generally there are eleven different types of recreational vehicles grouped into two categories based on body, size, functionality and amenities. Much has been written and researched about RVs and there are great
guides
with lots of information available to read online. The two RV categories are Motorized RVs and Towable RVs.
Motorized RVs come in
3 Classes
, Class A, Class B and Class C. Motorized RVs are built on a truck or van "chassis" which is the base frame of a car, carriage or any wheeled vehicle. Their engines run on either fuel or diesel and they are very durable and reliable with the ability to withstand long distance travel. Motorized RVs are currently in high demand and are considered true motorhomes. They offer various floor plans and modern amenities that make for the best RV trips for families.
Towable RVs come in different styles and sizes that include Toy Haulers, Truck Campers, Folding/Tent/Pop-up Campers,
Hybrid Travel Trailers
, Fifth Wheel Trailers and Travel Trailers. They are great for lot campers and a budget friendly option for traveling across the country. For families looking to travel lightly it could be a slight permitted to ride in Towable RVs.
Both Motorized and Towable RVs are unique and offer various features that allow families to have the best RV vacations. Here is a list of the five best RVs for a family of four or more and reasons why the Class C is our number one choice for most suitable.
5. Hybrid
A mix between the pop-up camper and travel trailer with a simple set up
Hard body provides safety and protection from harsh weather
Weighs about 3,000 - 7,000 lbs, sleeps 4-8 people
Major benefit is pop-out beds provide more space without added weight
Flexibility to use the pop-out when needed
Downside, wet bathroom, noise and leaks, not ideal for families camping
4. Travel Trailer
A towable trailer with solid walls and optional slide-out
Closely resembles the Hybrid camper
Weighs 1,000 - 10,000 lbs, sleeps 2-8 people
Major benefit is simplicity, great at campsites and for minimal campers
Downside, dependent on tow capable vehicles, less room, privacy and accommodations for families with children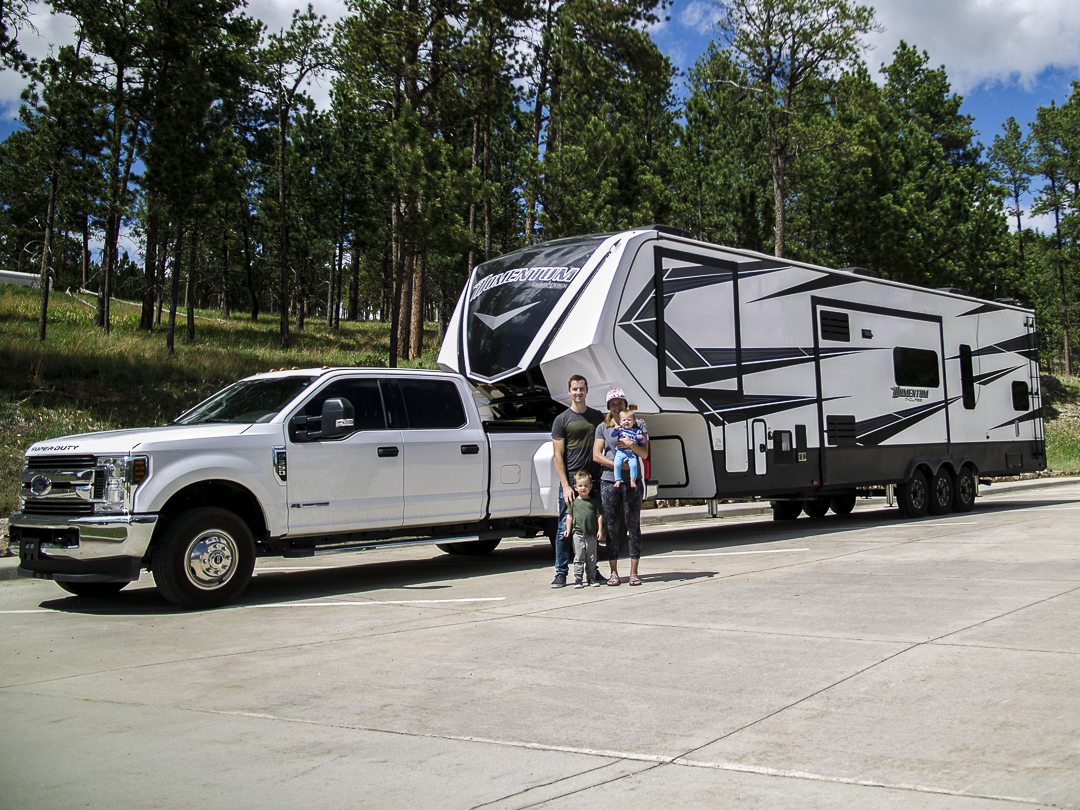 Family of 4 full-time rv'ing in large 5th wheel. Photo by Matthew Osborn.

3. Fifth Wheel
Large body, heavy trailer designed for pickup trucks
Very spacious and has dedicated bedroom with optional slide-out
Weighs 7,000 lbs and up, sleeps 4-8 people
Excellent for pick-up truck owners and best trailer for towing
Downside, dependent on heavy duty truck, passengers not allowed to occupy trailer while on the road, takes away from RV road trip experience
2. Class A
Largest RV, luxury motorhome with plenty of room and amenities
Built on commercial bus or truck chassis
Fuel, runs on gas or diesel
Stretches 20 to 45 feet in length, sleeps 8-10 people
Major benefit, great for luxury RV travel and the best rv for large families
Downside, fuel cost, difficulty to drive for novices because of size, difficulty of finding parking, limitations on clearance and city roads and often need CDL to operate. Oversized and may lack practicality for a family of four.
Class C
Mid-size RV, often referred to as the best of both worlds
Built on a van frame or truck chassis
Fuel, runs on gas or diesel
Stretches 21 to 41 feet in length with attached cab
Drivability, much easier to drive and park than the larger Class A
Space: sleeps up to 8 people, more space than the small Class B
Amenities: bedroom, bunkhouse, bathroom with shower, pull out sofas, cabinets, countertops, dinette, microwave, oven, compact fridge, heat and air conditioning, tv mount and slide-out option
Visit MangoRV.com to see the different Class C types available for rent
Tips for choosing a RV for family of 4
When choosing an RV for a family of four, we encourage you to be an informed
consumer
and consider size, drivability, space, length and overall amenities. Choosing the right RV for your family means eliminating concerns about traveling comfortably and ensuring your family's needs are met while on the road.