Image Description: Double-O-Arch at Arches National Park. Image courtesy of NPS.


Arches National Park is renowned the world over as a wonderland of amazing desert vistas. If you want to plan a vacation this winter, there are few destinations that can offer a better experience.


Here, you will be able to discover a vast region full of sandstone formations. It is the ultimate playground for the adventurous at heart. This is a place where you will forget your humdrum everyday work life and become one with the elements.


History and Location of Arches National Park Utah
The Arches National Park is located in what is considered one of the most beautiful places on this planet in eastern Utah. It is adjacent to the Colorado River, just a few miles north of Moab, Utah. This park's main claim to fame rests in the over 2,000 one hundred percent natural sandstone arches that dot the Arches Park landscape.


This park was initially established in the late 1920s, and it is spread over an impressive 76,000 acres. The raw beauty of this place attracts well over a million visitors every year. As of now, it is considered to be an absolute must-visit destination for rock climbers, hikers, and even geologists.


Arches National Park Facts
Some of the world's top universities send their researchers to this park due to its unique geological qualities. The rocky crust of the surface of the park has created the park's eponymous arch formations.


Apart from these arches, there are also plenty of other wondrous formations such as rocky pinnacles, giant stone bluffs, and red-rock canyons that are all well preserved in the park's area. The Arches National Park, Utah, was designated a national monument in the early part of the last century. However, it came into its own right as a world-class national park when its status was changed in 1971 by U.S. President Nixon. A few Native American tribes have lived in this desert region for thousands of years. The best time to visit this park is during the fall season since the temperature is perfect, even for extended hikes.


How Were These Arches Formed?
The Arches National Park Utah lies right on top of a natural and ancient salt bed that went through some extreme climate changes many millions of years ago. The cumulative debris from the ocean waters and floods slowly compressed into rock over millennia, even as they pushed the earth steadily upward to create dome shapes and natural hollow pockets.


The area is also replete with geological fault lines, and it is also home to the Moab Fault – which just happens to be one of the most well-studied fault zones in the U.S. The vertical arches that make the park famous are a direct result of these conditions.


While most of the rock layers have eroded over time, the ones that survive form these amazing arches. Moreover, you can also find plenty of petrified sand dunes here. Their existences indicate the areas that were once covered by ancient lakes.


The Different Arches That Give the Park Its Name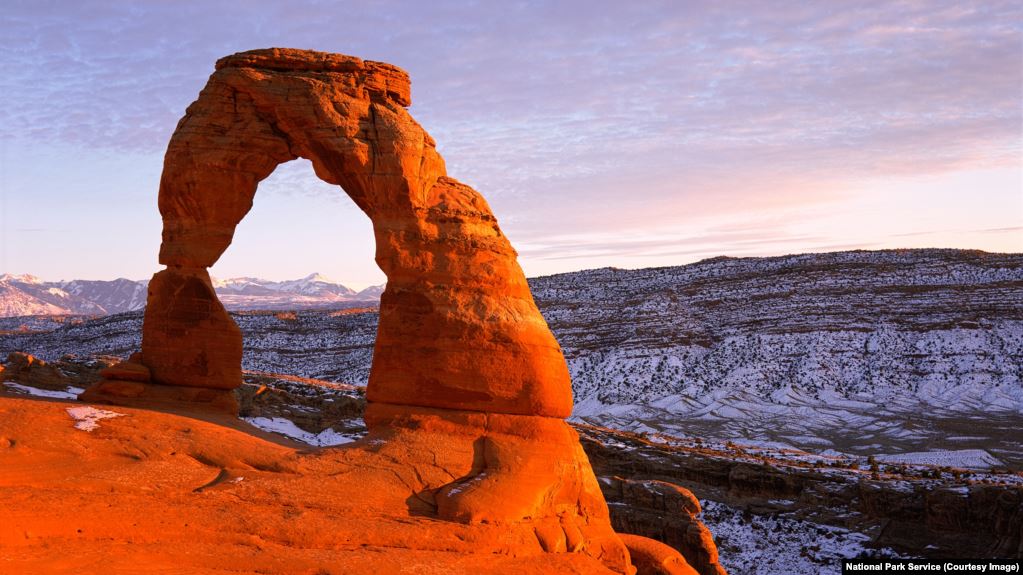 Image Description: Delicate Arch in Utah's Arches National Park. Image courtesy of National Park Service


Delicate Arch is one of the most famous arches in the park. In fact, this arch is now one of the official symbols of the state of Utah, and it frequently appears on U.S. postage stamps as well as state vehicle license plates. This singular sandstone formation stands by itself, unlike most of the other arches in the park that tend to cluster together. In comparison, the biggest natural arch is named Landscape Arch. This arch is a very thin ribbon of rock, and it spans a massive 290 feet in length.


Some of the other features of the distinctive park also include a collection of narrow rock canyons known as the Fiery Furnace. Furthermore, there are also plenty of tall sandstone columns and fins, such as Courthouse Towers and The Organ. Taken together, all of these larger than life structures constitute this impressive landscape as it exists on the Colorado Plateau.


The park also has one of the darkest night skies visible anywhere in the United States. While most of the park's more popular sites can be seen from its Scenic Drive via an RV, it would be worth your while to go out and explore on your own. If you are unafraid of a little physical exertion, the arches of Arches National Park will reward you with amazing payoffs - on each of the park's individual trails.


Transportation to Arches National Park
A pretty good way to get around Arches National Park is via an RV. You must remember that there is no public transportation available in this park. However, private commercial tours are offered by various companies located in the town of Moab, Utah, which now sits an estimated 5 miles southeast of the park's entrance.


It is possible for visitors to ride bikes in the park, albeit there are no shoulders or pre-specified bike lanes, so this option is more suitable for experienced cyclists. The main entrance to the Arches Park is located north of Moab town.


As a general rule, many travelers and visitors fly into Grand Junction Regional Airport (GJT), around 100+ miles or so east of the main park entrance in Colorado. Many RV users, however, use the Salt Lake City route that is located north of the park entrance.


The main road inside the park provides unrestricted access to multiple viewpoints and trailheads. During the peak season, parking can be very difficult, and you might have to wait a long time. The park has subcontracted with several companies and allows them to provide guided hikes and van tours in Arches. Some of the more popular trips include sunset tours and even photography workshops that are held in the park on a regular basis.


Camping in Arches National Park

This park does afford excellent camping facilities, and if you get a reservation early enough, you are practically guaranteed a choice spot:


Devils Garden Campground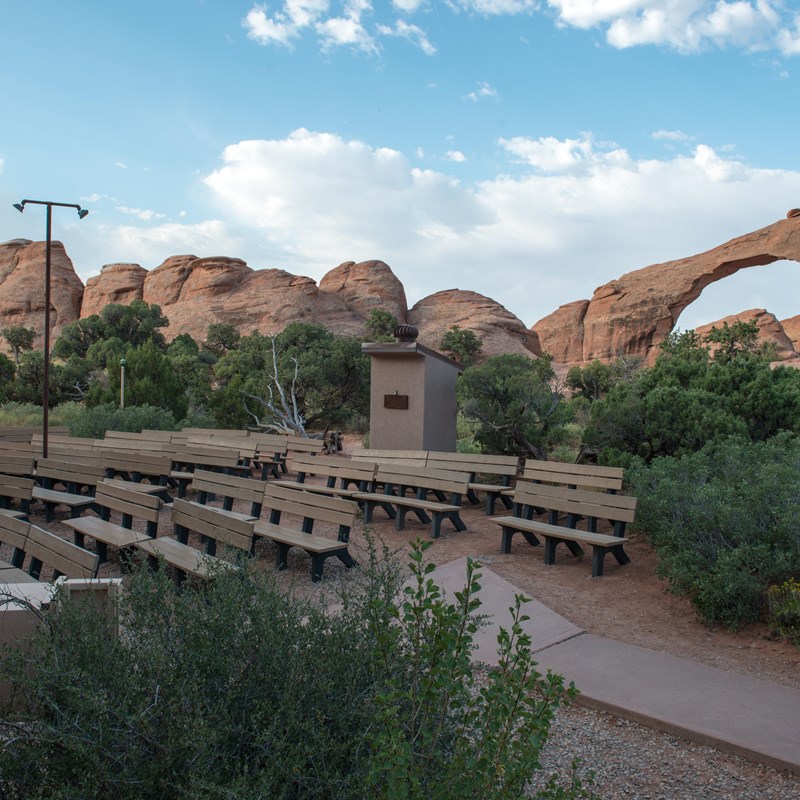 Image Description: The campground amphitheater at Devils Garden sits in the shadow of Skyline Arch NPS / Chris Wonderly


This is currently the sole RV campground at Arches National Park. During the busy season of March through October, it tends to be fully booked. If you arrive without a reservation you may have to look for
alternative campsites in the Moab area
. Reservations for Devils campground can be made six months in advance for the busy season of March through October. However the November through February season is less crowded, and both Devils Garden and alternate campsites operate on a first-come, first-serve basis.
The Devil's Garden campground site includes the following facilities:


24-hour availability of drinking water
Picnic tables
Flush toilets
Trash and recycling facilities: Available all the year-round
Firewood for sale: All year around
Grills and pit-style cooking areas
Amphitheater
Staff: Seasonal availability
The campground is always open all the year-round and has 24/7 working hours (barring certain public holidays)
Trailers are allowed at the campsite


There are no septic tanks or dump stations here, so you will have to use the flush toilets or make your own arrangements. Moreover, the maximum length of your RV or trailer should not be longer than 40 feet, at most.


You may call 1-877-444-6777 or log on to
www.recreation.gov
to make your reservation. There are group reservation campsites as well in the park that may be booked 12 months in advance, but they don't allow RVs or trailers, as such.

Directions to the campground


To reach the Devils Garden RV Campsite, enter the Arches National Park Utah off US 191. The main road is located 5 miles north of Moab, and you will have to follow it for approximately 18 miles and follow the signposts till you reach the main campground.


Alternate Camp Sites
If you are interested in camping in Arches National Park and the Devils Garden Campground is full, you can try the many other campgrounds in the Moab area. It helps to plan ahead. First-come, first-served campgrounds near Moab can fill by mid-morning during the busy season and all holiday weekends. If you're arriving in the evening, you may have to make other arrangements.


There are some campgrounds in the area that take reservations and offer great facilities:

Koa Campground


This RV and pull-through big rig site boasts of additional deluxe cabins with their own bathrooms and toiletries; if you feel cramped in your RV, you can always spend a night in their state of the art cabins. The
Moab KOA
also features a general store and WIFI. After a tiring day at Arch Park, Utah, you can come back to enjoy a refreshing dip in the campground's resort style swimming pool.
ACT Camp Site

The ACT campground offers a range of camping services, especially for RVs and comes complete with tenting facilities if you want to rough it; or cabin-style rooms if that is not your piece of cake. They have a learning center as well as a community kitchen that allows visitors to cook on their own and also get to know each other. Add to that a fire pit, grilling area and a good shower and a toilet facility to make sure you can freshen up in style after your hiking trip in the park.


What to Do at Arches National Park?

There are plenty of seasonal activities at Arches National Park, Utah, and you can rest assured that you will be able to enjoy your visit to this park irrespective of when you decide to visit. Let us take a quick look at some of the major seasonal activities at this park:

Summer


Summers can be very hot in the desert, and the Arches National Park is no exception to this rule. Here temperatures can exceed 100 degrees F during the day time. However, this does not mean that it is off-limits. On the contrary, you can use the off-season to explore the park on your own time without any rush. There are some of the fun activities you can enjoy in summer:


Go to Delicate Arch for a few selfies (sunset is the ideal time for that)
Drive down the aptly named Scenic Drive Road
Check out 'Balanced Rock' from the comfort of your RV
Visit Windows and Turret Arches
Visit the beautiful Double Arch
Enjoy a truly panoramic View from the Garden of Eden area


Autumn


This is by far one of the most popular seasons for visitors who hope to enjoy the activities in Arches:


Stop at the visitor center
Hike around Balanced Rock
Enjoy the nights gazing at the stars
Experience Ranger service led programs
Explore the Windows Area in detail
Photograph the Arches in the fall season
Landscape Arch Trail and the Devil's Garden Trail
Delicate Arch Hiking Trail


Winter

Winter at Arches National Park is a fairly peaceful time, without the usual crowds or the scorching heat that plagues visits in summertime. It becomes a magical place of snow and ice with few visitors to spoil its pristine grandeur.


You can watch the park history and orientation film at the main Arches Visitor Center. This place is open seven days a week except for Christmas day
Kids can earn their junior ranger badges by studying the park's manual
You can go hiking in the snow


The weather is extremely cold in mid-winter, and temperatures routinely fall between 30-50 F, so bundle up carefully.


Spring


As the temperature levels start to rise, people start drifting back to the park. There are plenty of things to see in Arches National Park in the spring season.


Take an early morning sunrise hike to Delicate Arch
Take a guided park's history tour at its historic center
Explore the Key Windows area
Take plenty of scenic drives and just inhale the fresh and crisp scents of spring
Stop at any pullout point that appears interesting
Take the time to see the Double Arch at least once


Checklist of Useful Items
Various activities in Arches National park require certain pieces of equipment. Use our traveler checklist and enjoy your holiday.


Backpacking Pack (at least 70+ liters) and a strong rain cover
Tent footprint (optional)
Sleeping bag if you plan on roughing it a little
A waterproof sack for your sleeping bag
Whistle along with a metal signaling mirror
LED headlamp with a few extra batteries
A multifunction watch with its own altimeter
Multi-tool
Trekking poles
GPS
Compass
Area map in its own case


Conclusion
There you have it. Your own personal guide to Arches National Park. Now that you know what the park offers go right ahead and plan your trip with an RV from
MangoRV.
And remember, adventures are waiting for you!