Yellowstone National Park was the first National Park in America, and some say in the world! It remains one of the most popular RV and camping destinations in the nation and is unbeatable for it's majestic landscapes and incredible wildlife.
Why Choose Yellowstone?
Yellowstone is unbelievable, there is so much to see and do and the grandeur makes for an unforgettable vacation.
One of the best reasons to visit Yellowstone is the abundance of hydrothermal wonders. Yellowstone is the best place in the world to see hydrothermal phenomena such as geysers, hot springs, mud pots, and steam vents. Over half of the world's geysers and hydrothermal features are located in Yellowstone. You've likely heard and seen pictures of Old Faithful, the most famous geyser in the world. But, Yellowstone offers so many more thermal features than just that one.
The second most popular reason to visit Yellowstone is the diverse wildlife. It's not uncommon to see deer, moose, wolves, bighorn sheep, elk, bison, bears, and more just by driving through the park. As with thermal features, Yellowstone National Park has the largest concentration of wildlife in the United States.
Yellowstone offers something for everyone.
What to do and see in Yellowstone
Old Faithful
Found in the Upper Geyser Basin, Old Faithful is one of the most recognized features in the park. No trip to Yellowstone can be called complete without seeing its eruption!
It erupts every one and a half hours and can go as far as 200 feet up! It's one of only six major geysers that are predicted regularly out of the 500 in the area.
Don't forget to stay and see the rest of the Upper Geyser Basin, there are 150 geysers in a one square mile area!


Grand Prismatic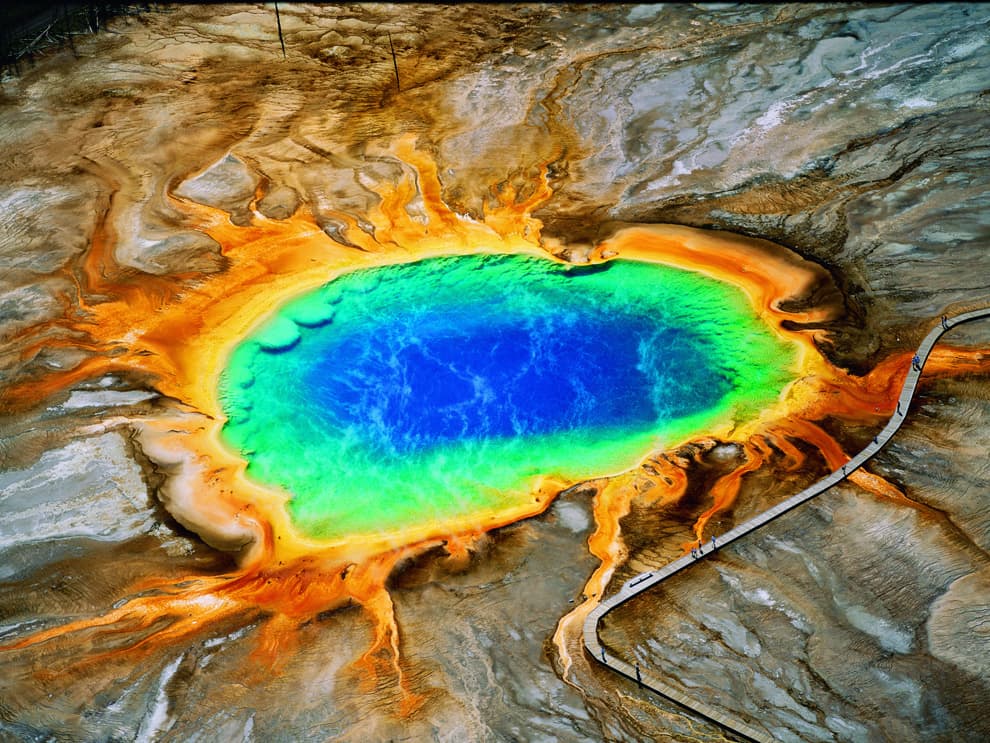 Grand Prismatic is the largest hot spring in the park and one of the most interesting sites it offers. The colors are intense and gorgeous, to the point that it can be hard to believe what you're seeing is real! The hot spring is gigantic, between 200 and 330 feet wide and over 120 feet deep.
Be aware that parking near the hot springs is limited and fills up very quickly! Try and get there as early as you can if you want a parking spot, or make sure your plans include some time to wait for a parking spot to open.
Mammoth Hot Spring Terraces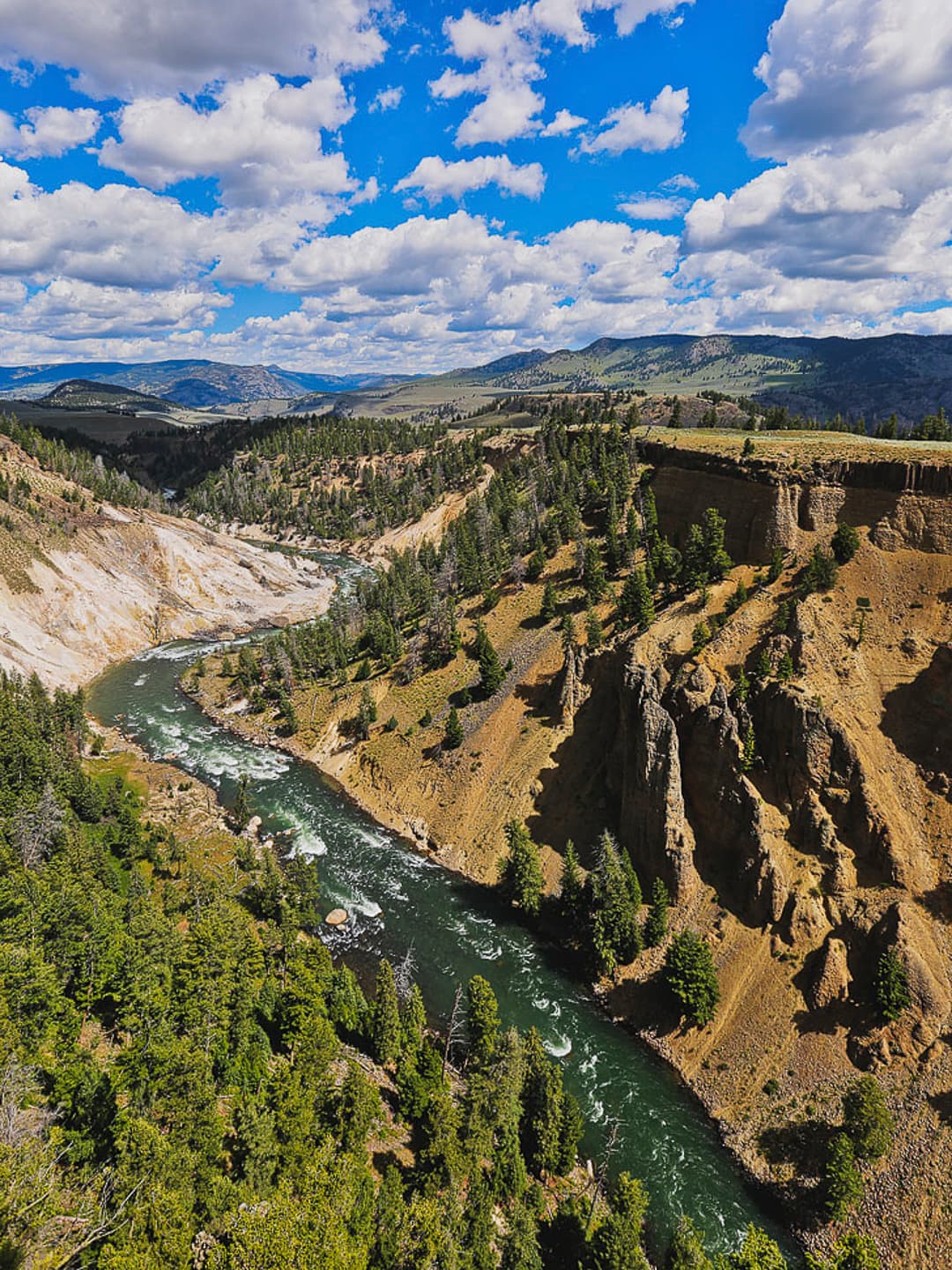 Located near the northern park entrance, the springs offer a unique viewing experience. You can walk along boardwalks above hydrothermal features and get an up-close and inspiring view of the hot spring terraces.
Hiking
Yellowstone offers over 2.2 million acres and 900 miles of hiking trails, plenty of wilderness to explore! Whether you prefer hiking through forests, around lakes, or through canyons this park has it all!
Keep in mind that many of these trails are at a higher elevation and can still have snow into June and July, so be prepared for cold temperatures and harsher trail conditions.
Some of the best trails in the park:
Uncle Tom's Trail (.6 miles, easy)
Artists Paintpots Trail (1 mile, easy)
Mystic Falls Trail and Fairy Creek (3.5 miles, moderate)
Bunsen Peak Trail (4.4 miles, moderate)
Dunraven Pass to Mount Washburn (6.8 miles, difficult)
Canyon Rim North Trail to Inspiration Point (7.9 miles, moderate)
Lava Creek Trail (8 miles, difficult)
Fishing and Boating
Yellowstone is host to some of the most famous trout streams in the world, including Gallatin, Snake, and Madison. Anglers from across the world visit the park specifically for fishing and all of this is an important part of Yellowstone's native fish conservation program.
You can also explore Yellowstone's majestic beauty from a new perspective by canoeing, kayaking, and motor boating throughout the park's rivers and lakes. With a permit and quick inspection, you can bring your own watercraft. Alternatively, the lodges provide rentals at Bridge Bay Marina. There are also
book guided services
.
Horseback Riding
Both guided and private riding trips are available to visitors and provide an unforgettable way to explore the park. There are day trips and overnight backcountry trips available as well as 0ne to two hour rides at Tower-Roosevelt and Canyon.
When to Visit
Yellowstone is a seasonal park. With an elevation over 8,000 feet and surrounded by mountains, it's understandable that parts of the park are closed during the winter months. This doesn't mean winter can't be a wonderful time to visit the park, just that conditions can be much more extreme.
This means summer is the most popular time to visit and when all of the facilities are usually open. Make sure you check the information page on Yellowstone's website before your trip to get a list of what amenities are available.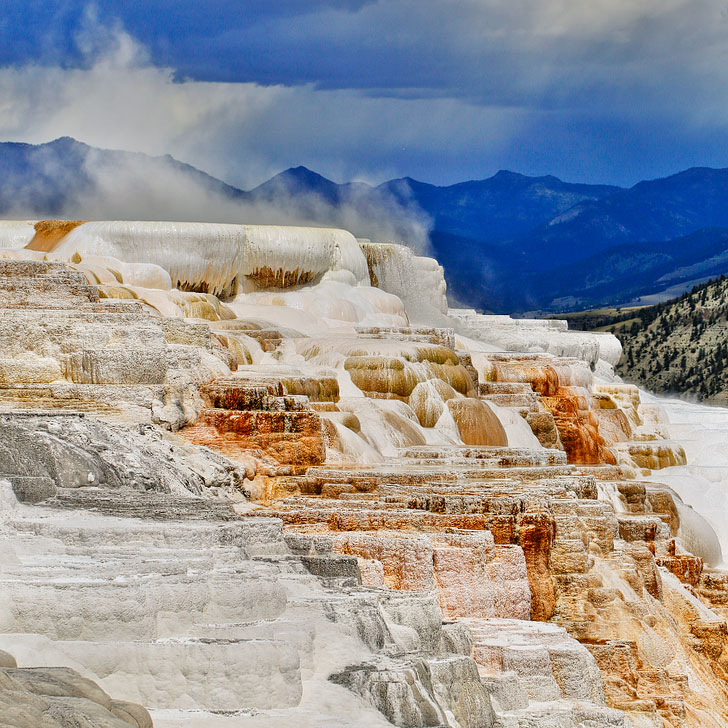 Where to Stay
There are 12 campgrounds with 2,000 sites throughout the park. While this may seem like a lot they fill up very quickly in the high season and reservations are only available at 5 of the campgrounds.
Fishing Bridge RV Park is the only campground that offers full hookups for RVs and some of the smaller campgrounds can only accommodate smaller RVs. You will want to check the descriptions of the campgrounds and their current availability on the
NPS camping page
.
If you find the in-park campsites aren't available for the times you plan on going, don't despair! There are multiple campgrounds just outside the park to choose from. There are also dispersed RV camping (boondocking) spots throughout the forest. These spots can be found through the official US Forest MVUM's (motor vehicle use maps).
Getting to and Around Yellowstone
Yellowstone National Park is in the northwest corner of Wyoming and spills out into Montana and Idaho. There are five entrances to the park and it can take several hours to drive between the stations. It's highly recommended you bring your own vehicle for exploring the park.
It can take several hours to travel 50 miles from Old Faithful to the Grand Canyon because of traffic and the number of tourists in the park during the peak season. There are also traffic jams caused by the buffalo, it isn't uncommon to find a whole herd blocking the roads for extended periods of time. Best to plan to travel slowly while inside the park.
There are companies that provide shuttle services and tours for those who would rather enjoy the ride.
Things to Remember
Besides getting accommodations booked early and remembering your camera there are a few other things to keep in mind:
The Visitors Center is always a good idea. In such a big and intricate park there's almost always a lot happening and updates you'll want to know about. Rangers can give tips for what to do during certain times during your visit.
Top attractions like Grand Prismatic and Old Faithful are best done as early as possible to avoid the crowds.
Stargazing is a particular treat in Yellowstone! Making time to get away from the populated parts of the park to enjoy the immense night sky is worth every second! Make sure to bring a flashlight and be aware of the wildlife!
Pack as if it will be every season while you're there. It's not uncommon for a warm day to turn into a chilly night, even in mid July.
Grand Teton National Park is only a short drive away and you won't regret taking the time to see it!